UniCourse is delighted to welcome the latest addition to our ever-growing team of dedicated course tutors; Geoff Radivan. Geoff brings a wealth of industry and tutoring experience, as well as a passion for teaching and electrical & electronic engineering.
We asked Geoff to take part in our Meet the Tutor series to give visitors and learners an insight into our latest addition.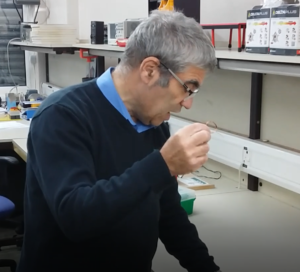 Part 1
Tell us a little bit about yourself.
I am at an age where I appreciate what I have, a family man who is kept extremely busy by my wife and children. I enjoy working and always enjoy the challenges of life and what it can bring to me. Having now worked for over 40 years, I am able to share my ideas and help others reaching their own goals.
Can you tell us why you joined UniCourse?
Having worked in the Further Education sector for last thirty years, I was looking to develop my ideas and in recent time, working for a training company in South Manchester. Here I managed and ran BTEC and HNC engineering courses from my home in North Manchester. I could see future teaching and learning move towards remote study.
I jumped at the opportunity to join a training provider that has gone from strength to strength in recent years, offering high-quality, accredited engineering courses to people right across the UK. Also, I was looking to work for a company where I can work from home and attend company offices once a week. From developing new materials and writing study guides, to creating short videos tailored to the curriculum and providing one-on-one support, this was a role that offered me what I wanted.
Can you tell us some details about your education and experience with teaching this subject matter?
I attended a college with like-minded students learning the fundamental principles of electrical and electronics. We learned how radio and television works. Being taught how to use a soldering iron and learning how to read a circuit diagram and making a circuit function was amazing for me. To be allowed the opportunity to be taught by lecturers who have served in the armed forces as technicians and had gone on to work for organisations such as the BBC, was a very exciting and rewarding experience.
I started my first job as a research technician in South Manchester and was encouraged to attend my local college to study my ONC (BTEC) in Electronics. This furthered my ability to achieve my ambition of obtaining recognised qualifications.
In later years, I worked as a bench engineer. After successfully completing an HNC in Engineering, the next 4 years proved to be life-changing as I learned crucial skills relating to field service and installation. When I communicate with learners, I always try to reference my experience, providing practical examples to the discussion.
Through my education and industrial experience, I have been given the tools to teach today's future technicians and engineers. This enables me to maintain the excitement I had for the industry 40 years ago in my work today.
Part 2
What are your thoughts on the emergence of online distance learning as a viable alternative method of study?
Once computers and the internet were made widely available, many students enrolled on a wide range of further/higher education programs. From my personal experience with flexible distance learning, I can see a future where students are able to study remotely and in a way that is suited to their lifestyle.
Attending college to study higher education programmes requires time and money. I have met some students whose company would not sponsor their staff or afford them the time to study and obtain higher qualifications. I have even met students enrolled on an apprenticeship, who achieved great grades at BTEC but were not provided the opportunity to complete an HNC.
Online learning does not require permission from your employer, and you can study in your own time. Usually, online learning programmes are more affordable, allowing students to achieve the same qualification they would from their local college but without having to pay a large amount.
With some higher education courses, colleges cannot guarantee your tutor will be delivering the program for the academic year. Students are unable to contact their tutor in the evening or on weekends, and most colleges cannot guarantee 48 hours return in feedback from assignments completed. If you are searching to gain new qualifications and improve your employability, online distance learning is for you.
Tell us about your experience in the engineering field, and as a tutor.
Working remotely as an engineering tutor is very satisfying. I am fortunate to have gathered a wide collection of Electrical and Electronic Engineering books, study guide notes, tutorial videos, and practical demonstration kits. I use these resources to support students and assist them in completing their assignments. Through my experience of working within the engineering industry and as a qualified tutor, I find this gives me the foundations to support students enrolled on an online distance learning course.
Can you tell us, in brief, the experience a student might have when studying with UniCourse?
Students may contact UniCourse tutors after hours and on the weekend. If a student is working through an assignment and requires further support, one of our tutors will be available to provide assistance in whatever way they can, whether that be via email, phone call, or one-to-one video call.
There is no pressure for students to complete assignments by working around deadlines. If any assignment work requires a resubmission, tutors will contact the student and discuss the amendments a student needs to make to pass. Each student at UniCourse is given access to free software, online workbooks, study guides, and an extensive library of bespoke video tutorials to support all units. Students do not need to purchase any textbooks or software to complete the course, they just need access to a laptop or computer.
Part 3
UniCourse is one of the most successful online learning companies for engineers. How is it different from other distance learning companies?
UniCourse consists of a dedicated team of engineering tutors, with a wealth of industrial and teaching experience. Each learner will experience a personal understanding from their tutors and our staff will go the extra mile.
A motivated group of talented people continue to market the company's brand and our CEO is very keen to ensure all new technology is provided, enabling us to provide a first-class service.
UniCourse provides affordable online distance learning. There is a wide range of programmes to study and students will have access to a comprehensive set of guide notes, presentation material, videos, and software. Therefore, UniCourse is a leader in online learning.
What should a learner expect from you as a tutor?
I have specialist knowledge of the subjects I am teaching, both as a tutor and in my experience working as an industrial engineer.
Each tutor's own experience adds to the unique brand and style of online support UniCourse provides. Their sympathy and patience enable tutors to provide the best support they can with a motivated and passionate attitude towards facilitating online learning.
If a student emails a tutor with a question concerning their assignment or operating specialist software, we endeavour to give a response within 24 hours.
Our team of tutors have the specialist knowledge required but are also dedicated to ensuring each student is treated as an individual and receives the appropriate guidance with any of their issues.
Students studying remotely may sometimes feel isolated and lack motivation. With the encouragement of a friendly tutor at the other end of the phone, this can make a difference.
What would you say is the best way as a tutor to deliver the information in a way that people can understand?
As a tutor who has worked with a wide range of students with varying abilities, it is important to identify the best way of communicating information with individual students.
Each student will have their own style of learning and some may have difficulty understanding the more complex engineering principles of the course. We can easily communicate information in a way that is best suited for the student to understand. In the last few years, I have used a combination of phone and video calls. For some students, a zoom session, with the ability to share screens, may work better.
After a Zoom session, I find it is always best to follow it up with an email highlighting the points discussed in the call. Tutors must be able to reach out to students and identify the most efficient ways to communicate the necessary information.
What advice would you give to a prospective student looking to start a course with you?
When prospective students contact UniCourse, it is vital that the correct advice is given before a student begins the course. Online distance learning is not for everybody and tutors are quick to emphasise the commitment required to complete the programme.
Students should be aware; a working computer or laptop is a necessity for online distance learning. For those who work offshore or sometimes don't have access to the internet, all you need to do is to download the workbooks and assignment briefs onto your computer when you are connected, for the times when you aren't connected.  A quiet and comfortable space to work is important in helping the student maintain focus on the course content. This is especially important when completing assignments.
Remote learning can be a frustrating experience sometimes, as with any course. UniCourse has a great team of tutors and support staff who are always eager to provide advice and guidance, should a student voice any concerns or worries. This programme is a superb way to gain an internationally recognised qualification, whilst still maintaining a full-time job, balancing family life, and managing your own study time.
What would you say about the effectiveness of online tutoring, compared to classroom contact lessons?
Online distance learning provides a unique experience of having your specialist unit tutor as a personal contact. With some classroom-based courses, it can be difficult for the tutor to focus on each of their students. Your local further education college may be some distance from your home. Academic timetables also may not suit your work and personal commitments. Some students are caring for children and/or elderly parents. Workplaces are not always willing to allow students the time needed for day release. Students may even work in the field or overseas and are unable to attend all lessons. If you miss a lesson, colleges may not provide a virtual learning environment to enable students to catch up.
Online teaching allows the student to manage his or her time effectively. Students can study even when they are offshore or overseas. So long as they have an internet connection to access their UniCourse resources and can contact their tutor should they need assistance.
In recent years, it has become increasingly difficult for colleges to recruit tutors. Unfortunately, this means that sometimes students are being taught by a range of tutors and there is a lack of consistency. Most students are looking for a consistent, accessible course with specialist tutors whom they can maintain an understanding with throughout their duration of study. UniCourse can provide this.
What are some of your favourite strategies for teaching materials to students?
First impressions are important when making initial contact with a new student. It is always important to be friendly, offering a sympathetic ear when required. Understanding each students' circumstances is also essential.
Providing good examples of problems and the best way to solve them is a great way to bridge materials to students. If the question is research based, signposting them to resources and ways to access them is important.
Confirming whether the information and teaching methods are suitable for the student is something that should be acknowledged immediately. Allowing students the opportunity to ask questions is vital and they can always do so via email or phone.
How can you determine if a student understands the material or needs additional instruction?
A classic aspect of teaching and learning is to determine that students have understood the material by asking them questions regarding the subject matter. Asking questions on the content will allow us to understand whether a student requires further support, based on their ability to answer. Ideally, these questions will take place in a discussion over the phone but if the communication is via email, footnotes can be used to highlight to the student where further support or guidance is needed.
What would you say to a learner who wanted to give up, believing they are not capable of acquiring an engineering qualification?
Remote study comes with its own challenges, students do not have contact with other peers on their course (except for the forum on Moodle) and there are no fixed times dictating when you can contact tutors. This can sometimes affect motivation and desire to work through the programme.
When speaking to disillusioned learners, it is important to identify what their concern is. A listening and friendly ear may be all that is required to ease their worries.
Creating a strategy to assist students is important. If a learner is anxious or is experiencing pressure at work or in their personal life, it is vital to remind them they are on a flexible course. When needed, students may pause their studies and pick up where they have left off when it is more appropriate for them to do so.
HNC Engineering focuses on mathematics and some units require assignments involving engineering calculations. Fortunately, UniCourse has an abundance of resources including learning guides, presentations, and videos. It is important to reinforce where these resources are located and that learners can always contact their specialist tutors.
It is important to reinforce self-belief and the gratification felt by students after completing and successfully gaining a higher national qualification in engineering. Regular meetings and email correspondence with learners is also recommended so that their studies may continue in a positive manner.
How would you describe your style?
My teaching style is following the belief that tomorrow never comes, we must always try and resolve issues today. Sooner rather than later is key with this type of study. I always say to myself 'never let the day manage you, you manage the day.' I have found this to be a great motivator when dealing with unforeseen issues.
Starting the day with 'To-do' list enables students to set out tasks and try to meet their targets. This is a discipline I use in my own work. Maintaining an open and friendly mentality with my students and always have a listening ear is important for me. However, acknowledging when firmness is needed is as equally as important.
Part 4
Can you tell us about the challenges and opportunities ahead of both the courses and students? What lies ahead?
One of the challenges faced with the courses is that the content is constantly changing. Technology is important with online distance learning and it is always evolving. UniCourse is determined to keep up with the fast pace of change in course content and technology.
Students may also struggle to keep up with these changes. You do not need to be a computer expert but having a basic understanding of computers is important as you will need to download and install software for certain units of the programme.
Online distance learning provides new freedom with education that has not always been available before. It can only continue to expand and as it does a wider breadth of courses will become available to students. From this growth, it can assist students to further develop their career with only positive outcomes. It is exciting to see what the future may hold.
What do you like to do in your free time?
I am a dedicated family man and I enjoy walking in our local woodland, stumbling across new paths. In the last few years, I have enjoyed reading books in Bletchley Park, mainly concerning the development of technology since World War Two. Collecting fine whiskeys is a passion of mine, as well as traveling overseas to visit various cities with vast historical and cultural interests.
Who has served as a form of inspiration to you in terms of what you do?
My late father was and continues to be, an inspiration to me. Unfortunately, he never continued his education and instead choose to work in the family business. Regardless, he always encouraged me and my brother to continue our education even after we had finished school. He promoted the work ethic that I still try to maintain even today.
What motivates you to keep going?
I am motivated by continually developing new teaching resources. At an early age as a teenager, I had a keen interest in radio communication. I always look at ways I can improve the reception and quality of the transmitted audio signal. I will continue to support learners and colleagues. I enjoy seeing others achieve their goals. If I continue to work as a subject specialist, providing guidance and seeing students gain their qualification, I will feel that I have succeeded in my job and this is what drives me.
"
"You are provided with all the resources you need and the support is fantastic. I would recommend UniCourse to anyone looking for distance learning at their own pace."
"
John Smith
HNC Student
"
"I have enjoyed my course so far with UniCourse, I have found it a lot more flexible and can fit it around my hectic lifestyle a lot easier than attending college with assignment deadlines. Any problem I have had with the course have been answered very quickly. I would recommend UniCourse to others who are busy but want to carry on with education."
"
Marc
HNC Graduate
"
"From the start of the enrolment phase, UniCourse admin team made everything simple and clear how the course would be laid out with the program 'Moodle' I would be using. The course is a very convenient way to study even if you are already fully employed like myself and lecturers were easily contactable and friendly. Overall I had pleasant experience with UniCourse and would recommend them to anyone looking to improve on their education"
"
Jonathan
HNC Student
"
"My dream of finishing my studies has been possible only because of UniCourse, they have given me the opportunity to be flexible with my studies and hold a full time job all at the same time. I would highly recommend them for anyone looking to study and work at the same time. I have found them to be very helpful with all my queries and they are quick to help me solve my problems. This is so convenient for me - I can study in my own time and in my own home no need to travel to college at a certain time. After finishing my current HNC course I hope to start my HND with UniCourse. They are fantastic i am very pleased with them."
"
Golam
HNC Graduate
"
"With a full-time job and 2 very young kids, a normal 9-5 course was not an option. It was becoming increasingly difficult to better my career options. Finding UniCourse on the internet has really opened up my learning potential. Their professionalism, knowledge and flexibility are really first class. To sum them up in one word.... Awesome!"
"
Adam
HNC Graduate
"
"I have found UniCourse to not only be a very convenient way to study as I am a self employed full-time electrician, but also the course tutor to be very helpful. Whether I require help by phone, email or a live web session he is always available. The tutor also returns marked work very quickly allowing me plenty of time to make any adjustments. I have found UniCourse to afford me the best opportunity to progress my career whilst also continuing to work full time. "
"
Lee
HNC Student
"
"I have really enjoyed my experience so far with UniCourse.org even obtaining a Distinction on my first module. The staff and lecturers are quick and helpful with their responses to any and all enquiries and the video conferencing platform is very helpful when discussing intricate subject matter. I would highly recommend the course to anyone wishing to broaden their horizons whilst holding down a full time job."
"
Richard
HNC Student
"
"Great tutors, easy to follow workbooks, great support, would highly recommend."
"
Daryl
HNC Graduate
"
"Time and place were severe obstacles to me achieving a HND in Electrical and Electronic Engineering. Thankfully, the flexible options offered by Unicourse have allowed me to undertake my HND from home with them while working full-time. They have personalised my HND, allowing me to choose from many optional units. The traditional colleges I looked up did not offer option choices at all. I have also managed to complete my HND with Unicourse in a fraction of the time that would have been necessary at other colleges. I am really pleased that I made the right choice. The support I got was fantastic."
"
Leonardo
HND Graduate
"
"The flexibility of the courses and the professionalism of the staff make UniCourse a great way to improve your personal skills with a chance of a future career."
"
Valentino
HND Student
"
"If you want to succeed I personally suggest you apply to UniCourse. Why? After many years away from study I did my HNC. It was hard work but with superb help and guidance I obtained 8 Distinctions. This year I am doing my HND in Electrical & Electronic Engineering with UniCourse. Again, UniCourse are pulling out all the stops with high quality assignments, a one-to-one video conferencing platform, incredible feedback and comprehensive support when needed."
"
Julian
HND Student